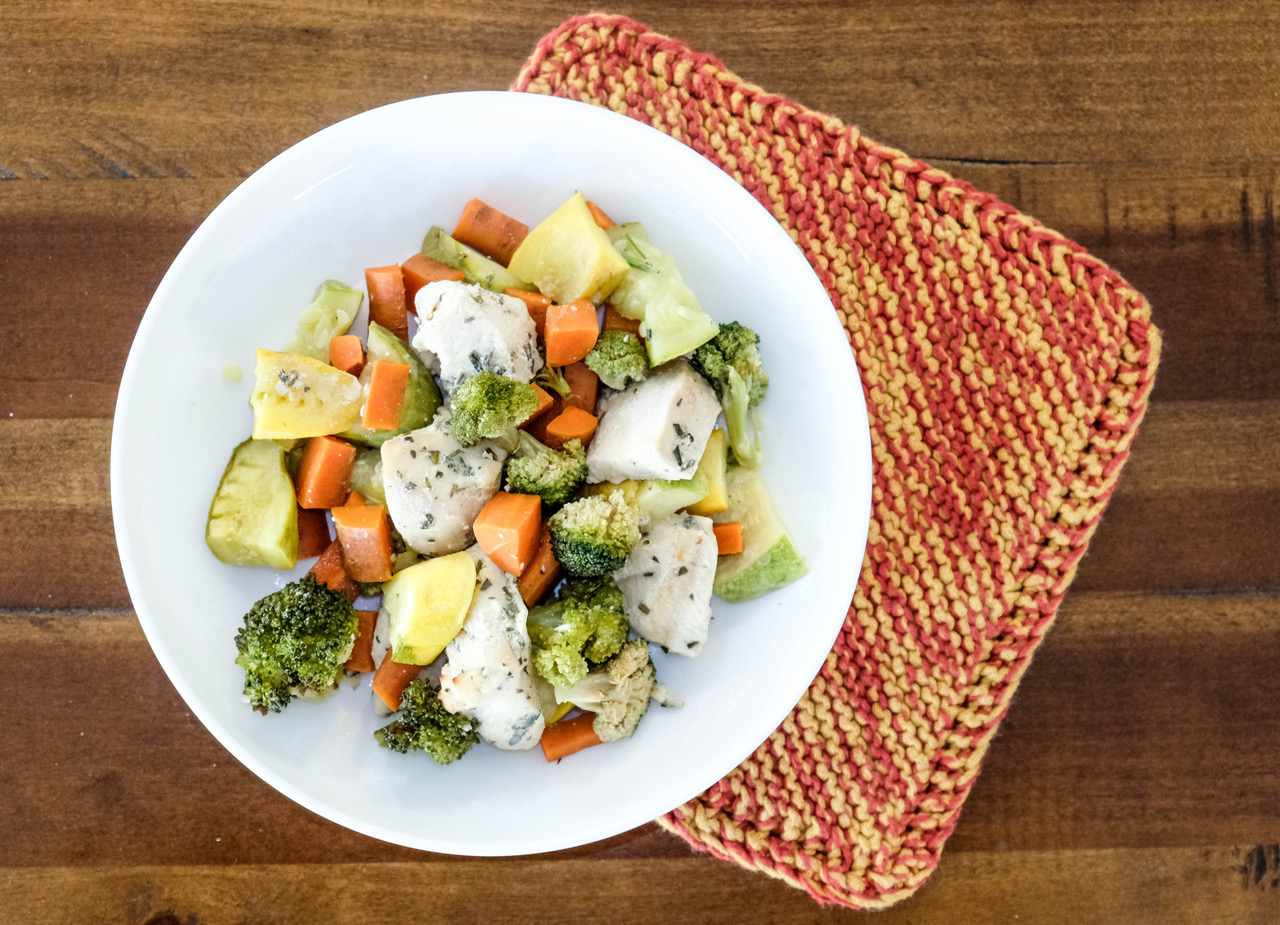 This entree is very simple to assemble and bake. The ingredients have been carefully selected for their complex properties and myriad of health benefits. Sweet potatoes and carrots are rich in polyphenols, mushrooms help to reduce inflammation, and nutrient and vitamin-packed summer squash are roasted together to provide healthy fiber and minerals for fighting disease.  
A small amount of bone broth is added before roasting which aids in digestion as well as adding richness to the overall flavor. 
Preparation time: 20 minutes + 22 minutes in oven
Yield:  4 – 6 servings
Ingredients:
1-1/2 pounds chicken breast or tenderloin cut into 2" pieces
2 cups carrots or sweet potatoes cut into 1/2" thick chunks
2 cups combined, zucchini and summer squash cut into 1/2" slices
1 cup yellow or red onion cut into 1/2" wedges

 

Optional: 2 cups mushrooms (or vegetables of your choice) cut into 1" pieces
1 clove garlic, minced
4 tablespoons olive oil (separated in ½)
2-3 tablespoons plain, whole milk yogurt
1 – 1/2 tablespoons lemon juice or apple cider vinegar
1/2 cup bone broth
2 tablespoons balsamic vinegar
1 tablespoon fresh rosemary, minced
1 tablespoon fresh thyme, minced or 1 teaspoon dry
Salt and pepper to taste
Preparation:
Preparation for Chicken:
In a large bowl combine 2 tablespoons olive oil, garlic, rosemary, thyme, lemon juice or apple cider vinegar, yogurt, 1 teaspoon salt and bone broth.
Add chicken and toss to coat.  Cover and refrigerate, allowing to marinate for 30 minutes to one hour.
Preparation for Vegetables:
Heat oven to 400°.  Line a large sheet pan with parchment paper.
In a small bowl combine 2 tablespoons of olive oil, vinegar, and a pinch of salt and whisk.  
Spread the carrots or sweet potatoes on the sheet pan and drizzle with the dressing.  Toss to coat and roast in the oven for 6 minutes.  Remove from the oven.  Arrange the remaining vegetables and chicken on the sheet pan, spread evenly apart of a single layer.  
Roast for another 14-16 minutes, checking at the mid-way point, when you may toss and rotate the pan for even cooking, if needed.  The chicken is done when it reaches an internal temperature of a minimum of 165°F.